Sousvide Supreme Promo pack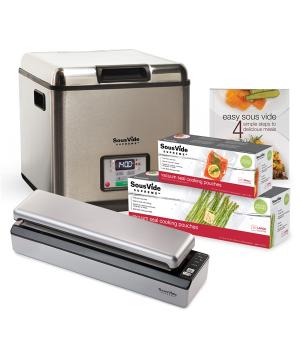 Sousvide Supreme Promo pack
Save today on this great package offer! Includes a SousVide Supreme water oven, vacuum sealer (includes 10 pouches), 2 boxes of vacuum seal cooking pouches, and the Easy Sous Vide cookbook. Everything you need to start cooking sous vide! The SousVide Supreme is the world's first water oven designed specifically to bring the extraordinary sous vide cooking method into the home kitchen.
The push-button simple SousVide Supreme allows anyone to prepare meals with maximum flavour and nutrition that will be cooked to perfection and ready when you are. The result is food of incomparable taste and texture: steak perfectly cooked edge-to-edge, vibrant vegetables, juicy tender chicken breasts, and ribs with the meat literally falling off the bone.


How it works:

The sous vide (pronounced "soo-veed") technique, the secret of great chefs worldwide for decades, involves cooking food in vacuum-sealed pouches submerged in a precisely-controlled water bath held at a constant temperature. The steps to sous vide cooking are simple: season and vacuum-seal your food, drop it into the SousVide Supreme at the desired temperature, and walk away. Unlike the hostile high temperatures of stovetop, oven, or grill, the SousVide Supreme gently and precisely cooks food to its perfect serving temperature and cannot overcook. Foolproof gourmet results with push-button simplicity.
Why SousVide Supreme:

Hands-off, time-saving meal preparation. Just set it and walk away.
Easy and foolproof. Never overcook a meal again. Perfect results, every time.
Gourmet taste. Capture the full, TRUE flavor of foods
Saves you money. Tenderizes inexpensive cuts.
Added nutritional value. Natural juices and nutrients are retained in the food-safe vacuum seal pouch.
Easy clean-up. No messy pots and pans. Just empty and wipe down the interior with a soft cloth.
Energy-efficient operation. Uses energy equivalent to a 60W light bulb once at target temperature.
Cool touch housing. Much safer than immersion circulators and the added insulation makes a much more energy efficient appliance.
SousVide Supreme Features:
Holds twenty 115 gram portions
Sleek all-in-one design
Precise temperature control to 1 degree Fahrenheit (0.5 degrees Celsius)
Energy efficient engineering
Quiet operation
Push button simplicity
Lid doubles as drip tray for pouch transport Universal food pouch rack for easy positioning of cooking pouches
Counter worthy style in a small footprint (about the size of a bread maker)
SousVide Supreme Promo Package ships complete with:
SousVide Supreme water oven, including:

Stainless steel universal pouch rack to separate cooking bags
Detachable power cord
Insulated lid blanket
Perforated bottom grill designed to generate thermal turbulence
User Manual with cooking time/temperature charts and recipes
Instructional DVD

Vesta Precision Vaccum sealer V06
2 boxes of vacuum seal pouches - 0.95L size and 3.79L size.
Easy Sous Vide cookbook PDF
Comparing the SousVide Supreme Demi with the SousVide Supreme: see more details here


| | | |
| --- | --- | --- |
| | SousVide Supreme Demi | SousVide Supreme |
| Cooking capacity: | 12 x 115g portions of food. | 20 x 115g portions of food |
| Dimensions: | 31.75 cm L, 28 cm W, 28.7 cm H | 36 cm L, 29 cm W, 29 cm H |
Supreme Demi has a cooking capacity of between 60% and 80% of the SousVide Supreme.
In terms of dimensions, the SousVide Supreme is about the size of a bread machine, while the Demi has a countertop footprint the size of a Crock-Pot®.
The Simple Steps of Sous Vide Cooking
Sousvide Supreme makes it easy to prepare gourmet foods in under 30 minutes hands on time, all with incredible flavors and nutritional benefits. Sous vide cooking requires no skill - the water oven does most of the work itself with only a few steps that even a beginner can master.
01. Season
Season food with
your favorite herbs
and spices.
02. Seal
Vacuum Seal foods
in a food grade
cooking pouch.
03. Simmer
Drop the sealed
pouch into the
water oven.
04. Serve
Plate directly from the
pouch or briefly sear.

Make Nutritious and Delicious Meals At The Push Of A Button
What's exciting about the sous vide method is that it is a unique way of cooking that yields different and better results. Foods cooked sous vide develop flavors and textures that simply cannot be duplicated using any other traditional cooking method. Cooking sous vide offers many benefits.
Incredible Taste
Natural flavor and juices are infused into the food while in the cooking pouch resulting in incomparable flavors and texture all so easily.
Foolproof Results
Anyone can now cook food to perfection, and the minimal hands on cooking saves time. Like your own personal chef the SousVide Supreme cooks during the workday/overnight.
Maximum Nutrition
Beneficial nutrients found in food are retained in the pouches, compared to traditional cooking methods where the nutrients either evaporate or are left in the pan.