Sousvide Supreme Demi promo pack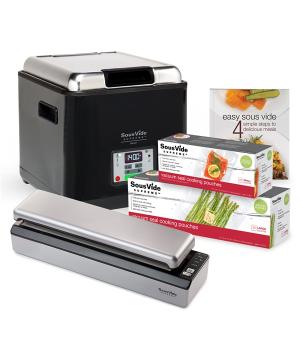 Sousvide Supreme Demi promo pack
Kaubamärk:
Sousvide Supreme
Tootekood:
1-4
Laoseis:
Tellimisel
Tarneaeg:
Tallinnas ise järele tulemisega kohe, tarnega kõikjal Eestis 1-2 tööpäeva
Great starter package with everything you need to cook sous vide with ease and convenience in your own home. This package includes a SousVide Supreme Demi water oven, a SousVide Supreme Vacuum Sealer (includes 10 bags), 2 boxes of vacuum pouches, and the Easy Sous Vide cookbook.

The compact SousVide Supreme Demi offers the same unparalleled cooking convenience of the original SousVide Supreme water oven but in a smaller appliance.

With hands-off cooking that is gentle and forgiving, the Demi makes it easy to have meals ready in minutes at the end of the day. Everyone - from the accomplished cook to the rank novice - can turn out gourmet quality meals with minimal preparation time. It's as easy as heating water! Just season your dish, vacuum-seal in food-grade pouches, simmer in the Demi water bath, and then sear or sauce your dish.
Your SousVide Supreme Demi Promo Package ships complete with:
SousVide Supreme Demi including

Detachable power leads; both UK and European plugs
Perforated bottom grill designed to generate thermal turbulence
The Universal Pouch Rack to separate food pouches and keep food pouches submerged.
User Manual with cooking temperature charts and recipes
Instructional DVD

SousVide Supreme Vacuum Sealer (includes 10 pouches)
2 boxes of Vacuum Pouches (0.95L size and 3.79L size)
FREE Easy Sous Vide cookbook pdf
Comparing the SousVide Supreme Demi with the SousVide Supreme:see more details here


| | | |
| --- | --- | --- |
| | SousVide Supreme Demi | SousVide Supreme |
| Cooking capacity: | 12 x 115g portions of food. | 20 x 115g portions of food |
| Dimensions: | 31.75 cm L, 28 cm W, 28.7 cm H | 36 cm L, 29 cm W, 29 cm H |
Supreme Demi has a cooking capacity of between 60% and 80% of the SousVide Supreme.